Featured Item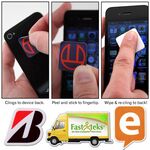 Wipe-it Now Screen Cleaner - Custom Shap...
Wipe-It Now screen cleaner...always available for a quick wipe! Safely and completely cleans and polishes the view screens of cell phones, MP3 and DVD players, GPS and other electronics. Adhesive, mic...
$1.08 - $3.18
Welcome!
Welcome to Full Moon Sales!
You will find any and everything your company needs for custom promotional items and imprinted apparel. We are dedicated to providing exceptional customer service, competitive pricing, and impeccable quality! We know that your apparel and promotional products serve as constant advertisement for your company and you want your promotional products to be reflective of what your customers/clients can expect from your company
...Quality, Consistency, and Availability! We will work together with you to develop the best combination of promotional materials for your needs. Call us for promotional products, imprinted apparel, awards, recognition, customer gifts, promotional golf balls, or any other imprinted product you need.